Sunday School Update – Fall 2021
With a registration of 23 students, our Parish Sunday School has been meeting regularly at St. Agnes'. They often meet together for the beginning of their time and then work in smaller groups. They are using the Dwell Curriculum and, appropriately, the titles of the units, Imagine, Wonder and Marvel, invite them to explore their relationship with God – the Father, Son and Holy Spirit – and, the stories of those who have gone before us in the One True Faith.
Keep watch – they will be announcing their plans for their Annual Advent project – in the past they have raised funds to purchase farm animals and supplies for others through the Primate's World Relief and Development Fund's World of Gifts, they have supported the Samaritan's Purse gift box program, and, last year, they focused on three programs that serve our local communities, Miramichi Emergency Centre for Women, Hospice Miramichi and Harvest House. They may be small, but they are mighty. We even hear that there may be fresh eggs as a part of this year's project. Got you thinking?
Thank you to our Superintendent, Valerie Stewart, and the teachers and helpers, including Kerri-Ann Sturgeon, Stephanie Furlong, Connie Hambrook, and, Vanessa Sturgeon, who volunteer do work with our children to grow together in Faith, Love and Service – to grow into their vocation as Christians.
---
2016 Sunday School Christmas Presentation
2015 Sunday School Christmas Presentation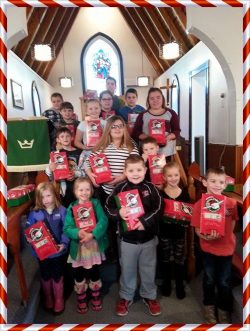 Saint Michael's Youth Conference
or on Facebook at: