Rector's Corner, June 6, 2021,   "
215

"

This week our country and the Christian community have reeled in the wake of the discovery of 215 unmarked graves of Indigenous children on the grounds of the former Kamloops "Indian Residential School' where they had lived and died. Many others have written and spoken more eloquently and powerfully than I can – especially among survivors and their descendants — but I feel under holy obligation to address some words to you, my flock.

There is unbelievable cruelty involved in taking children as young as four forcibly from their homes, parents, communities and culture, sometimes very far from those homes.  Abuse and neglect – including lack of medical care and malnutrition (often when the schools had farms that produced adequate healthy food that instead was fed only to staff and sold at market) – led to over 3000 of these children dying in the care of these residential schools. It is estimated by the 2015 report of the Truth & Reconciliation Commission that about one-third of these are undocumented, like those at Kamloops, BC. That our governments ran and funded these institutions in our name, and that they were usually directly operated by our Churches (Anglican and United, as well as Roman Catholic, as in Kamloops) is truly shameful and a deep sorrow for us as Christians.

We all remember the grief that swept over our country as many of our Canadian troops serving in Afghanistan returned to be buried back home. That number, from all over Canada, is less than that of the children buried at this one residential school, in one community. And these 215 children were not given full honours in death, like our soldiers. Although they were Baptized Christians they were not given decent Christian burials, or even had their names recorded. These kind of unmarked graves are more akin to the atrocities seen perpetrated on 'the disappeared' in other countries that are rightly investigated as war crimes or "crimes against humanity". If we ask why our brothers and sisters can't get past this, or 'move on', we should ask: If our great uncles or aunts or cousins went to a boarding school and were never heard from again, disappearing from our family history, would it matter how long ago it happened?  If our five year old child or grandchild were taken away by the RCMP to a school far away and forbidden to speak our language without being physically punished, how would we feel? And many of these cases didn't happen that long ago. Though most residential schools closed in the 1970s, the last only did so in 1996.

We were not personally responsible, but our Churches were. We do not share a collective guilt, but as those who are called to take up the Cross of the One who took the sins of others (including us) upon Himself, we are called to a collective, or corporate (in the Body) responsibility from today onwards. Father Thomas Merton wrote of the difference between guilt and contrition:   Guilt only makes us 'feel bad', gives us shame; Contrition leads us to repentance and becoming new creatures in Christ.

How can we, here, respond? We can seek to better inform ourselves. We can join in prayer in our own Liturgy today and in other opportunities, such as ones offered by our National Church online. We have been praying regularly in our Liturgy for Archbishop Mark MacDonald. He offers much wisdom to us. All of this has hit our self-determining Indigenous Anglican Church at a time when it has already been devastated by frequent suicide epidemics and the greater suffering due to COVID 19 (11 indigenous clergy have already died from COVID).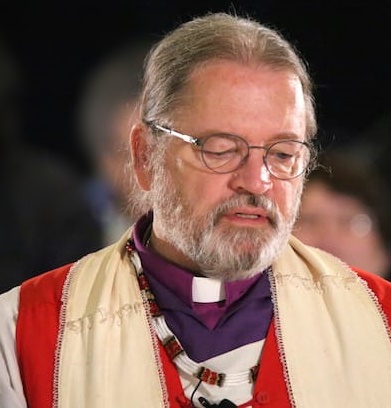 Please continue to uphold Archbishop Mark and the Indigenous Church in your own prayers. Something he shared at the beginning of last week has stayed with me.
"They were innocent children. Innocent baptized children, for this was a condition of their participation in the schools. Did this not make them part of the Church? Did Baptism, which was said to make them registered in the Book of Life, not make them worthy to be noted in the register of the church, worthy of note when they were buried? Could not the water that Christ made Holy in baptism make the blind eyes of the school officials see that the children were human – were holy?"
Recorded in the Baptismal Registers, but not in the Burial Registers.
A powerful parable.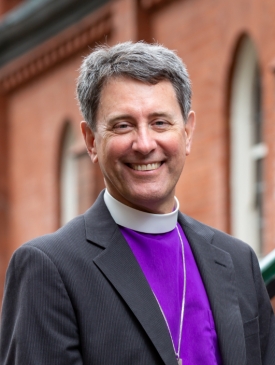 Bishop Stephen Andrews (currently Principal at Wycliffe College, Toronto) had this to say:
"We are given names in our baptism, and we are told that the Good Shepherd "calls his own sheep by name" (John 10:3). How tragic, then, to learn of the discovery of the unmarked graves of 215 children at a former Indian Residential School. The fact that this was a church-run school makes the discovery especially troubling, since the church has always taken great care in the burial of its dead. What are we to say in the face of evidence that human life has apparently been so carelessly discarded? And let us be clear. The evidence of such disregard goes beyond Kamloops. The Truth and Reconciliation Commission identified 3,200 children who died at residential schools, and the Commission's findings about administrators' dereliction in returning bodies or even informing families is shocking. But of these 3,200 (and the Commission believed that the real number is much higher), one-third of them are not even named."   (the full piece can be found online at https://www.wycliffecollege.ca/blog/sine-nomine or ask me for a printed copy)
Children, Christian children, simply 'disposed' of, instead of being lovingly laid to rest in their home communities.
Several of the Scriptures in the Daily Offices this past week have spoken to me about this national tragedy and shame. Of course, we began reading the Bible's pre-eminent book on innocent suffering: Job.  But two passages from the Epistle of St James jumped out at me as I reflected on the words of Archbishop Mark and Bishop Andrews.
"So speak and so act as those to be judged under the law of liberty. For judgement is without mercy to one who has shown no mercy." And yet in the very next line we hear, "Mercy triumphs over judgement." (James 2:12-13) Lord, have mercy upon us.
Again from St James: "If a brother or sister is poorly clothed or lacking in daily food, and one of you says, 'Go in peace, be warmed and filled', without giving the things needed for the body, what good is that? So also faith, by itself, if it does not have works, is dead…For as the body apart from the spirit is dead, so also faith apart from works is dead." (James 2:15-17 & 26)
We need to live out our faith in love and mercy, as Christ loves us in His Divine Mercy. We need to remember that we are always, always, walking "under the mercy".
Prayer Suggestions: 
Pray for our Indigenous communities and, especially, for those who have been impacted by the legacy of the residential schools – from generation to generation.
Pray for the victims of abuse and violence in all circumstances, especially remembering those who were injured or who died at the hands and neglect of others in these schools. You may want to use one of the prayers for the Holy Innocents:

O ALMIGHTY God, who out of the mouths of babes and sucklings hast ordained strength, and madest infants to glorify thee by their deaths: Mortify and kill all vices in us, and so strengthen us by thy grace, that by the innocency of our lives, and constancy of our faith, even unto death, we may glorify thy holy Name; through Jesus Christ our Lord. Amen. (Book of Common Prayer, page 111)
Almighty God, our heavenly Father, whose children suffered at the hands of Herod, receive, we pray, all innocent victims into the arms of your mercy. By your great might frustrate all evil designs and establish your reign of justice, love, and peace; through Jesus Christ our Lord, who lives and reigns with you and the Holy Spirit, one God, world without end.  Amen. (Book of Alternative Services, page 398)

Keep Archbishop Mark MacDonald (National Indigenous Archbishop), the Anglican Council of Indigenous Peoples and our brothers and sisters in the self-determining Indigenous Anglican Church in your prayers
Pray for those who are working to encourage reconciliation, to educate others and who grieve with and help bring healing to those in pain.
If anyone would be interested in speaking with me further about this or, if you would be interested in a study in fall of 2021 on this topic, please speak with or contact me.
– Fr. Gerry+
To learn more:
Online resources:
Video, "Doctrine of Discovery: Stolen lands, Strong Hearts":  https://www.youtube.com/watch?v=mQwkB1hn5E8   (We are working to see if we can make this available on DVD for those who would like to borrow it)
Website, Reconciliation Canada https://reconciliationcanada.ca/
Website, Legacy of Hope https://legacyofhope.ca/
Website, National Centre for Truth and Reconciliation https://nctr.ca/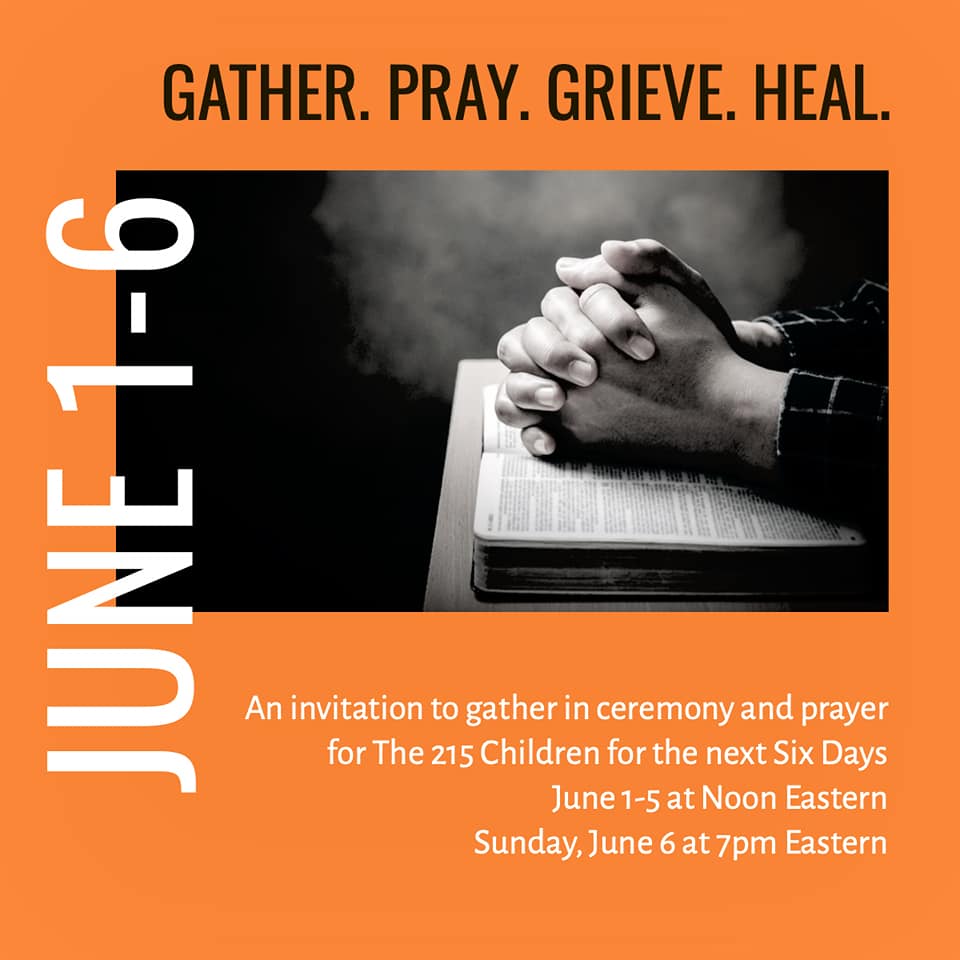 Online Sacred Circle, Sunday, June 6:  Those with online access may want to take part in a ZOOM Sacred Circle tonight at 8:00 pm (Atlantic) – where clergy and lay people meet with Archbishop Mark to put the Gospel at the centre of our focus for prayer and teaching.  Use this link to join that event:   https://us02web.zoom.us/j/82591609134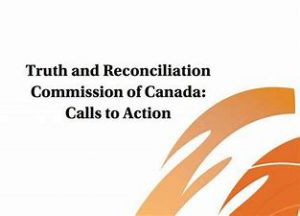 Become familiar with the 94 recommendations of the Truth and Reconciliation Commission (online at https://ehprnh2mwo3.exactdn.com/wp-content/uploads/2021/01/Calls_to_Action_English2.pdf or ask me for a printed copy)
Public Libraries:
The New Brunswick Public Libraries have a number of resources available including:
A knock on the door : the essential history of residential schools from the Truth and Reconciliation Commission of Canada / Truth and Reconciliation Commission of Canada
Final report of the Truth and Reconciliation Commission of Canada
Stolen children: truth and reconciliation. (DVD)
We carry each other's memories (DVD)
Ask the librarians for more suggestions, including a number of personal recollections of life in the schools.
11 books to teach kids about residential schools
This is a link to an article on Today's Parents which provides a very good list of eleven books to help to teach your children about the residential schools.   While I have not read all of them, the ones I have shared with my children and grandchildren have been excellent ways to start important conversations:  https://www.todaysparent.com/family/books/books-to-teach-kids-about-residential-schools/